"Atom" Pavilion
Year:

2015-2021

Status:

Implementation

Location:

Moscow, Russia

Function:

Area:

24 889 m2

Team of authors

Architects:

Mikhail Ivanchenko, Daniil Sitnikov, Anna Hohlat'eva

...

, Vladimir Zhilyaev, Alina Khairova, Olga Poletkina, Alexandr Sokolov, Alexandr Pupyshev, Gul'nara Khamzina, Konstantin Zaigraev, Anastacia Davydova, Tatiana Moskalenko, Eldar Khalilov, Pavel Kultyshev, Anna Sitnikova

Engineers:

Irina Gracheva, Artem Karanin, Anastacia Mikutis

...

, Pavel Ashikhmin, Nikolai Ryazanov, Svetlana Detusheva, Dmitriy Minakov, Ekaterina Apanasenko, Dmitriy Ovsyannikov, Oleg Rastorguev

Constructors:

Marat Mukhamedov, Tsogoev Ruslan, Alexandr Tsukerman

Project manager:

Vladimir Shishov, Konstantin Akatov, Roman Yashin

...

, Alexey Abramov

Head of interior design:

Julia Tryaskina
"Atom" Pavilion
The project is the winner of the open international competition for creation of the Nuclear Energy Pavilion in the territory of the Exhibition of Economic Achievements. At creation of an image of the building architects of UNK project tried to abstract from the simply obvious associations with atom or nuclear power. The space of pavilion has to be innovative, so, in a sense, aspire to challenge stereotypes and to be open for everything new. The pavilion is not a monument of the historical model of the atom, but an interesting and expiring space, a place for creativity.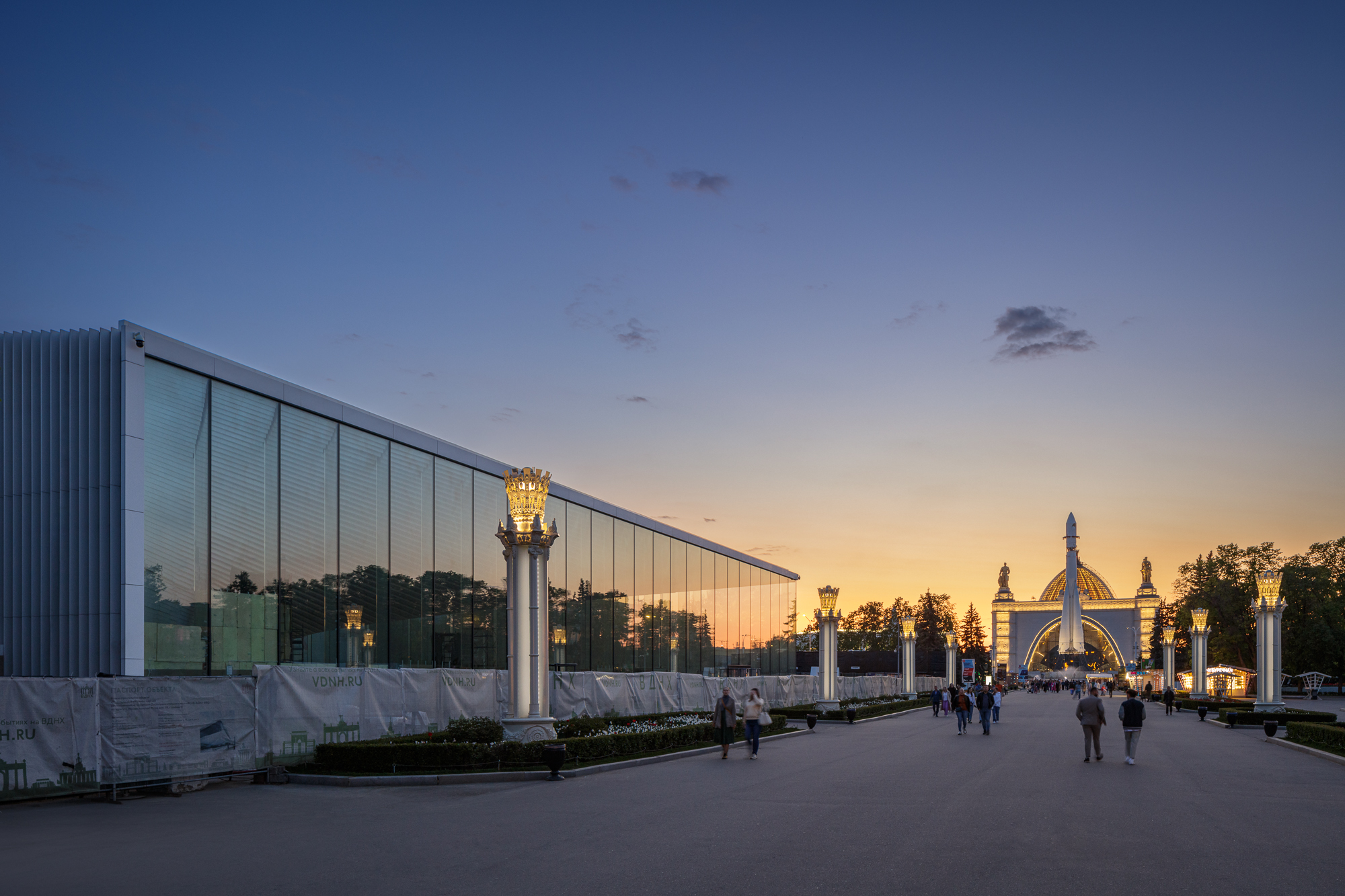 It is, first of all, the comfortable and adaptive environment for visitors of VDNH. The visitor, having appeared in this space, will read out a new code of nuclear power – openness, availability, informational content, interactivity. The console, covering universal exhibition space of the temporary exposition, can be interpreted as a wave, a smooth trajectory of the movement of an electron in atom, the abstract dynamic form, symbolizing energy. With its bend it maintains plasticity of the dome of "Kosmos" pavilion and figuratively interacts with it.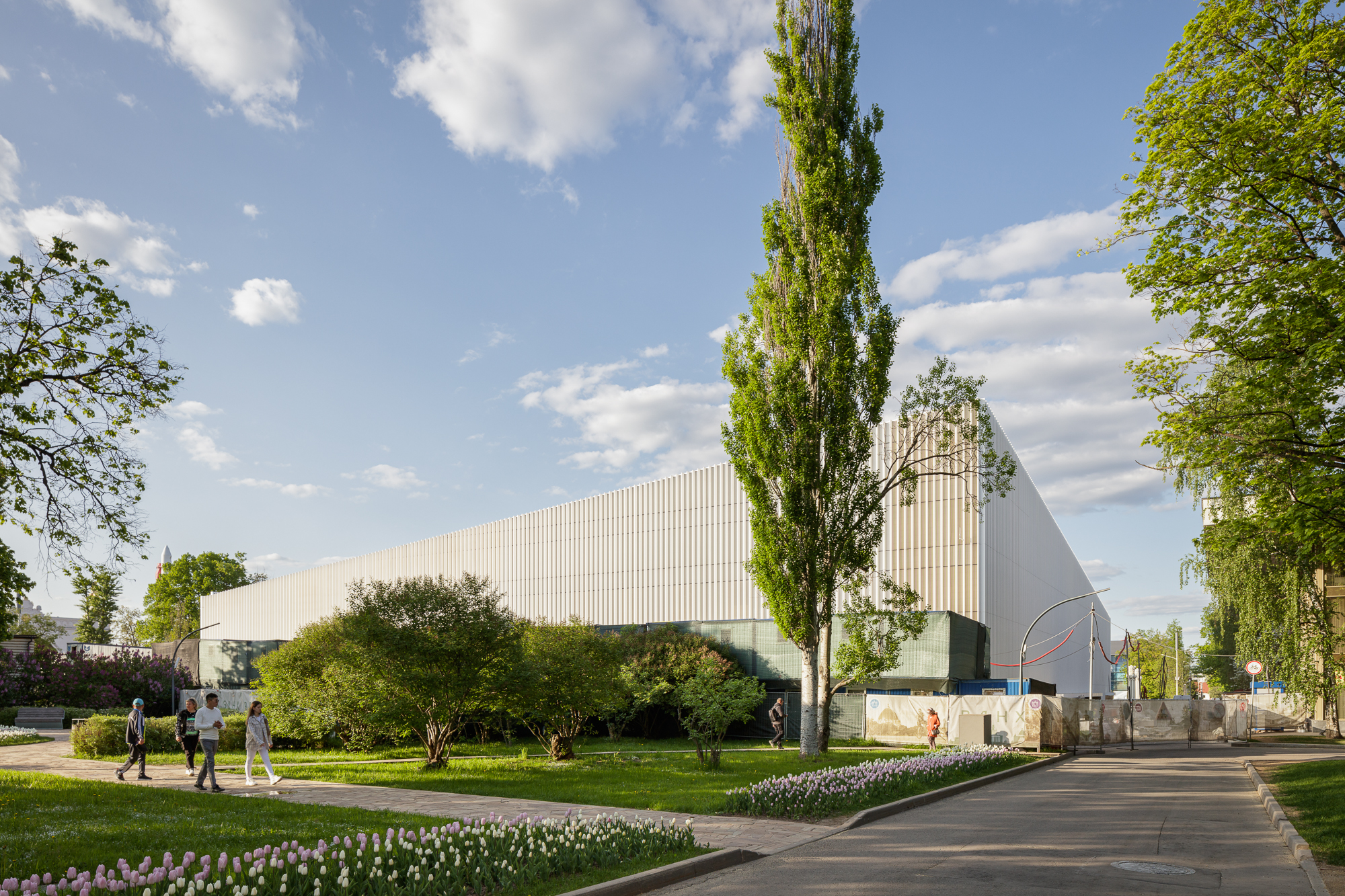 The fine ribbed finish of the pavilion tends towards the indoor sculpture of historical façades pertaining to the surrounding. One more feature of tradition is to design the pavilions with the yards or styled open areas in the Exhibition of Economic Achievements. The vacancy and substantivity are seamlessly combined in the pavilion appearance, the same as the nuclear energy with its seemingly nonsubstantial atom at the source and powerful physical energy at the output.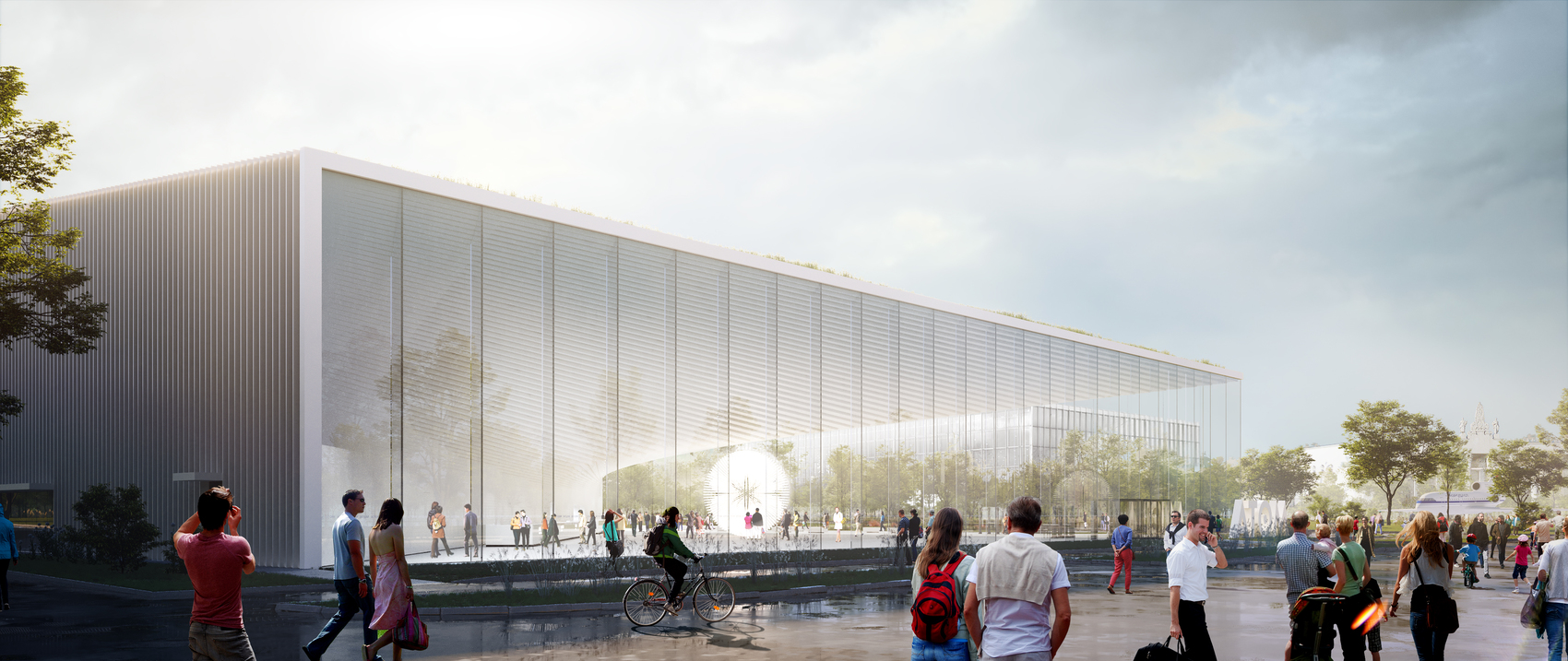 The pavilion of "Rosatom" corporation represents the structure of a simple geometrical form. The superstructure is diagonally divided into two zones — opened and closed. The open part has the glazed facade. It is the universal exhibition space intended mainly for the replaceable exposition and active transit of public. Huge glass "show-window", with constantly replaced exposition and free access, will make pavilion a point of a constant attraction for visitors. The universal exhibition area under the cantilever can be transformed and adapt to any function - exhibition, film show, performance, and so on, thus the program of Pavilion "Rosatom" has the unique opportunities for development and involvement of different social groups. One of the main tasks of the project was to change the image of the nuclear energy in the human conscious, that is why the most important element of the pavilion has become the public area - the symbol of the openness of the field.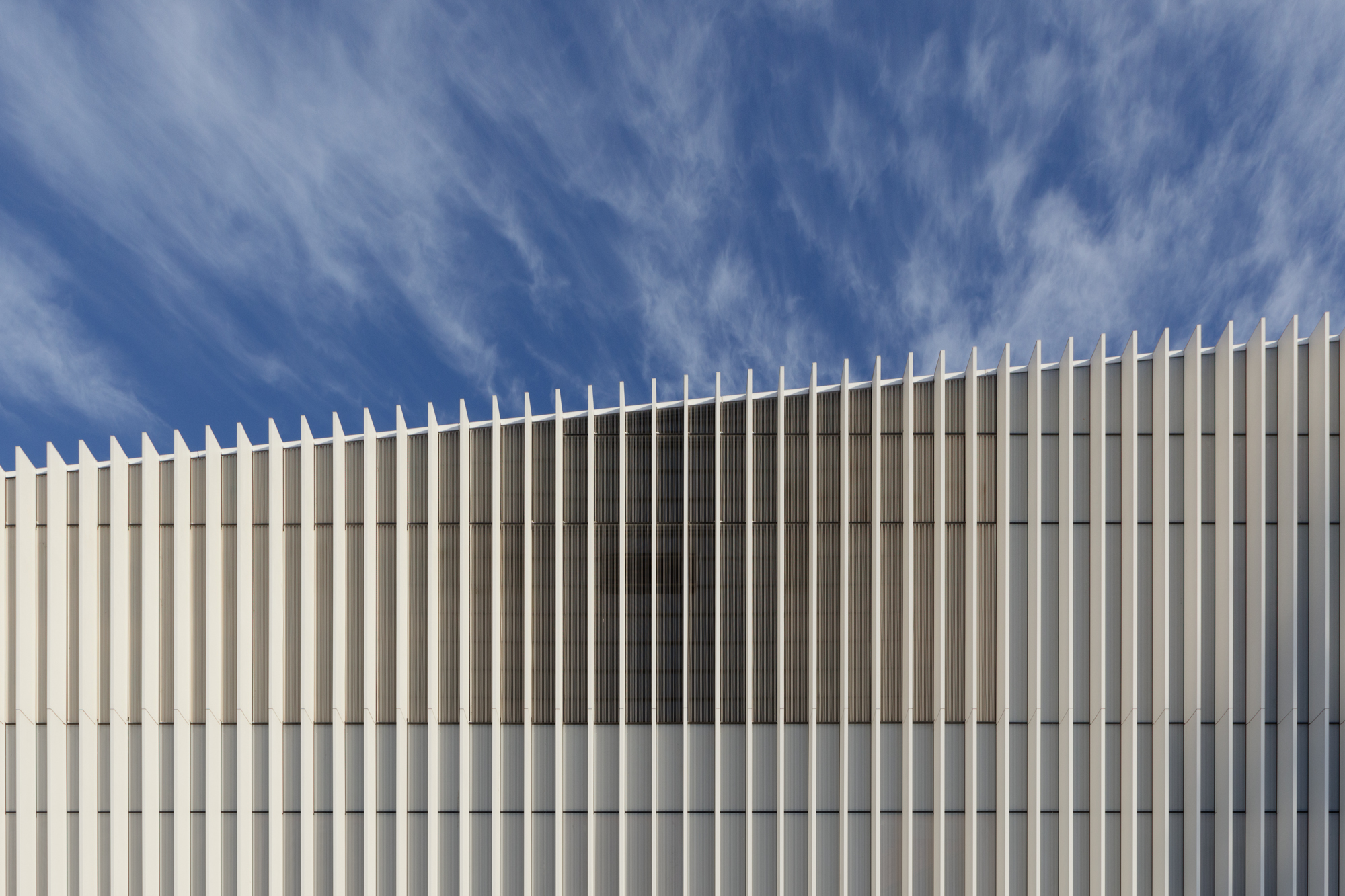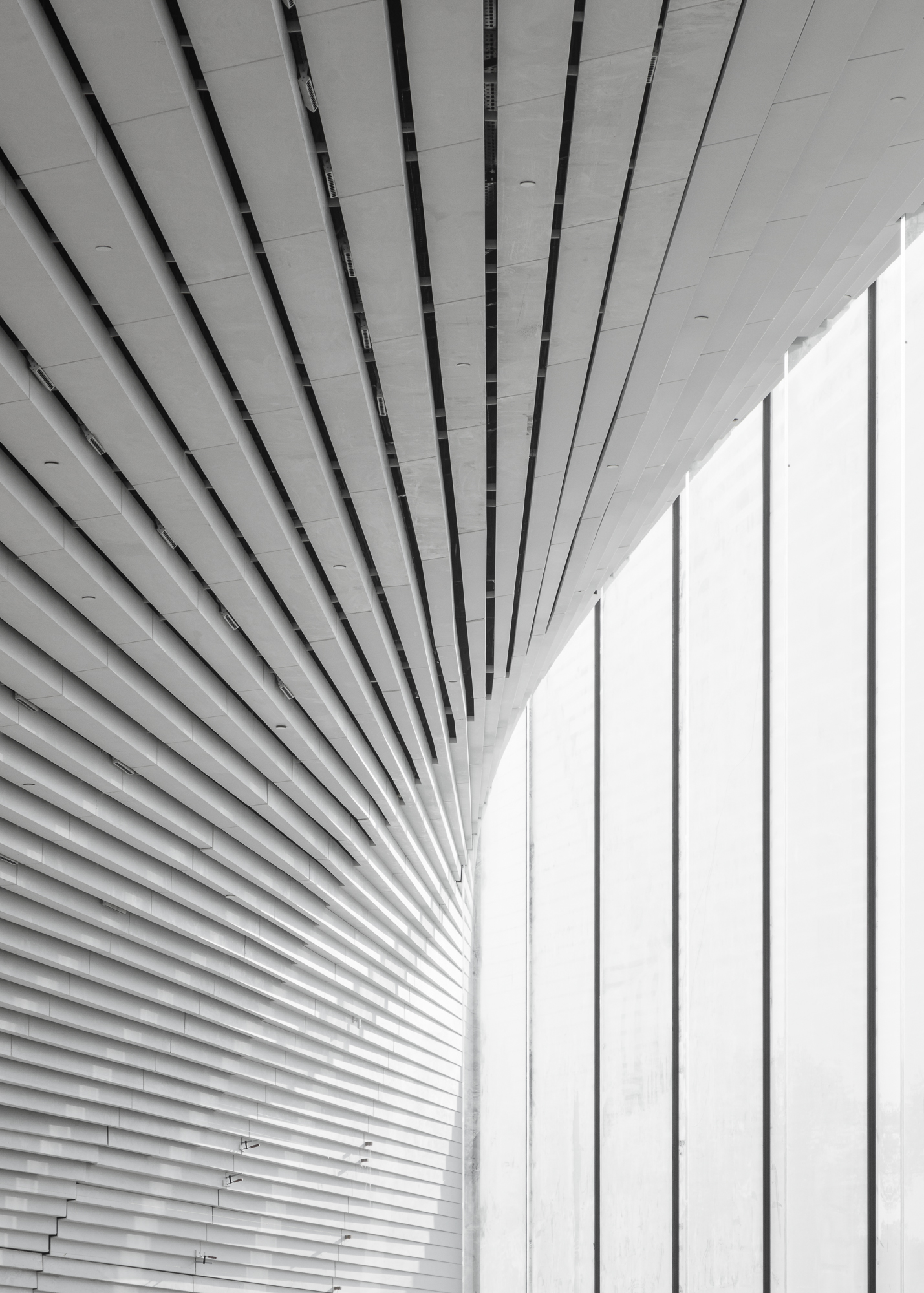 The unique feature of the pavilion is the roof arranged viewing deck for relax and events. The restaurant is also arranged in the accessible green roof area. The unique view to the nearest pavilions opens through the stained glass.